2019 In Review
In 2019, Molecule made 550 improvements to our ETRM/CTRM with a new trades screen, API, VaR out of Beta, and physical logistics preview.
Molecule is always evolving, and it's really fun for us to look backwards every so often, just to see how far we've come. It's easy for us to forget all the cool new features we've added over the course of 525,600 minutes. Hopefully, our work made your daily work just a little bit easier!
Here are some of the things we made this year:
New Trades Screen
After lots of customer feedback and tons of research & development, we launched a new Trades screen. On it, you can now pick the columns you want to see, sort and filter, create saved views for different types of trades, and much more.
It looks fantastic, too — and performs like crazy. Underlying it is a brand new front-end framework and an awesome grid that we plan to continue upgrading. If you don't have access to it already, just ask your Admin.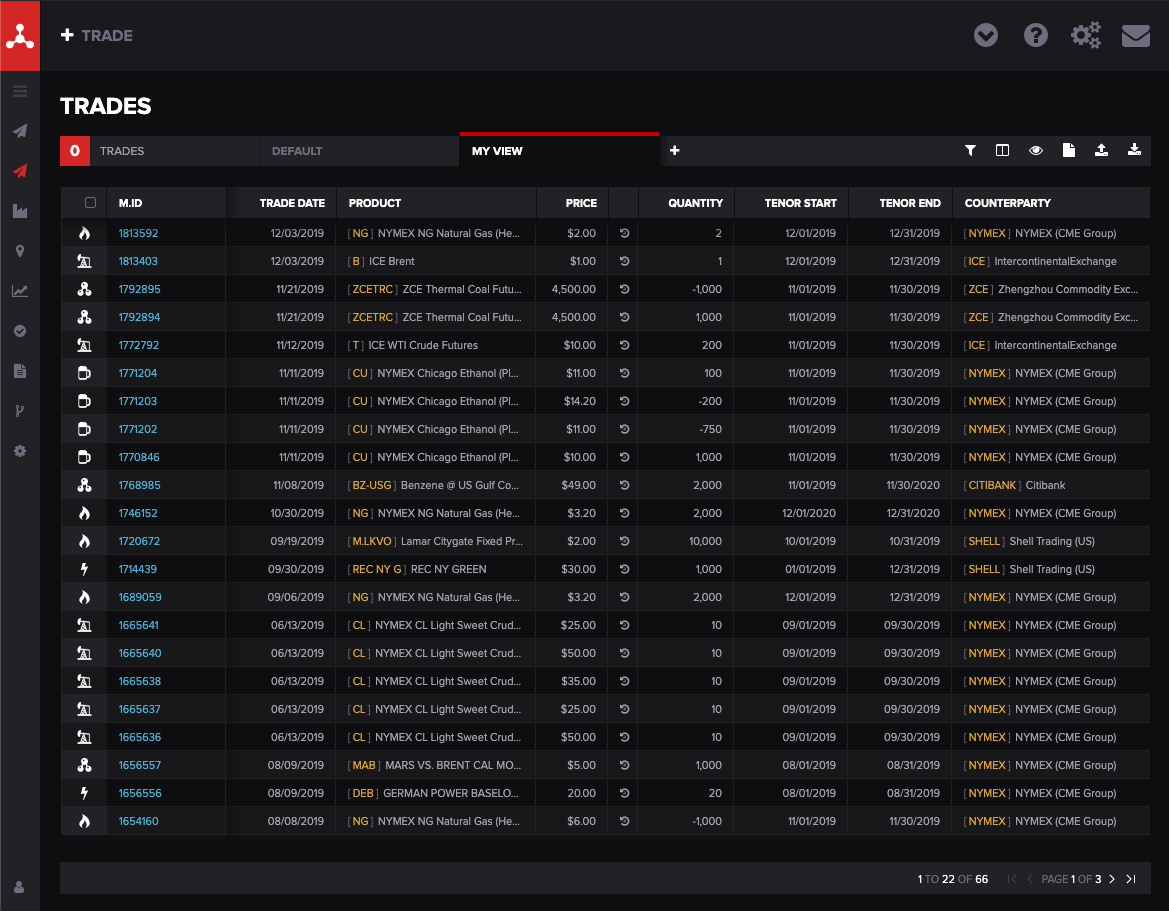 New API
Our new v2 API began rolling out last year, and we completed the rollout late this year. Using it, users can do a million and one things, including:
Connect Molecule to Excel PowerQuery or Microsoft PowerBI for powerful, even mobile analytics.
Stitch another system to Molecule to send or retrieve trades, market data, valuations, or even VaR details.
Set up your master data in Molecule, and manage it.
Get pretty much any data out of Molecule you want.
Moreover, our new screens (like the Trades screen) use it, too — so we'll be adding new features to it and improving it all the time. If you haven't used it yet, documentation for our new API is at https://developer.molecule.io. (The documentation password can be obtained from our CS team.)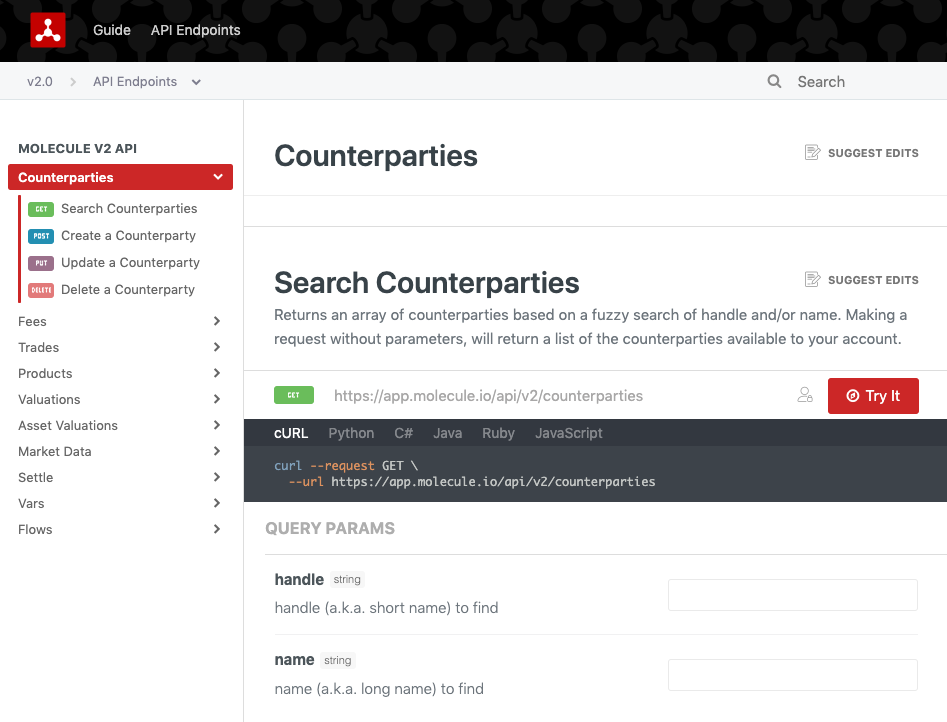 VaR out of Beta/Backtest
Our long-maturing VaR finally came out of Beta this year. It's stable, it's been running on multiple different portfolios for months, and it's FAST. We also rolled out a visual backtest — to prove that it's generally right.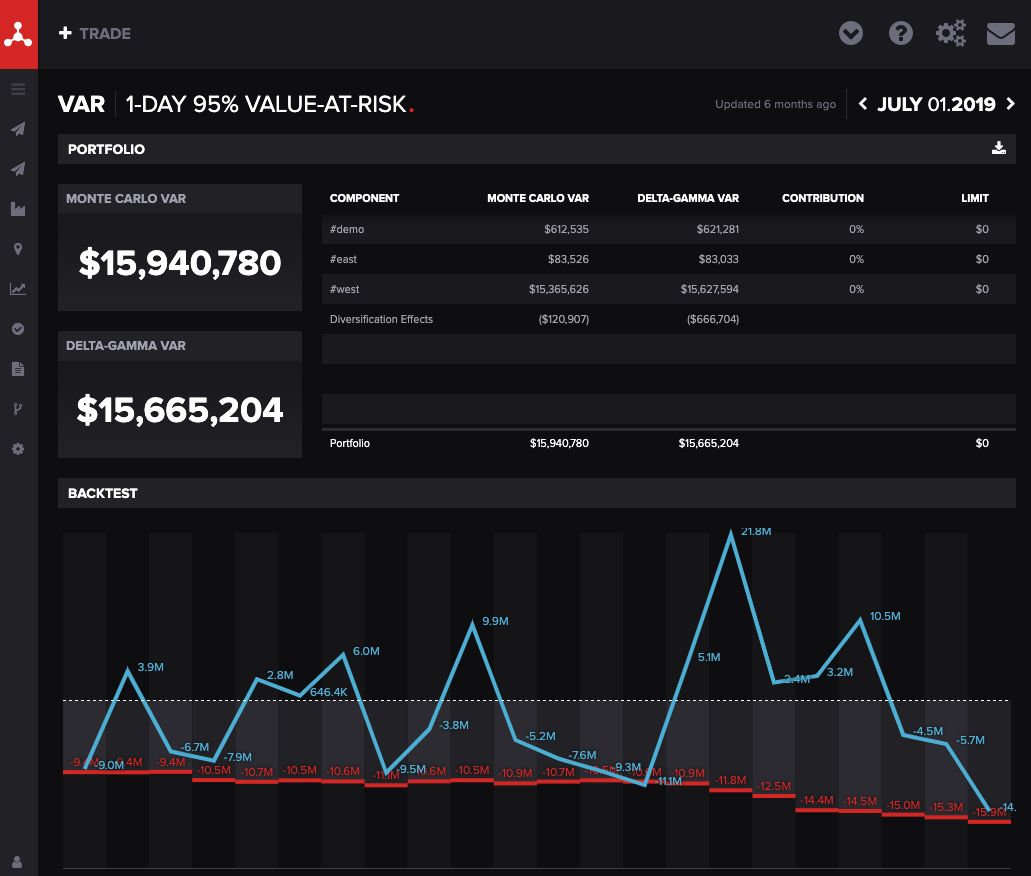 Much Better Hourly (and sub-hourly) Power Model
Molecule began with a focus on power and then expanded to other commodities. This year, we upgraded our power capabilities to better model hourly (and even 15-minute) power — without shoving hours into product names, but by attaching intervals to contract dates system-wide and across all major integrations.
We rolled out the first of the power upgrades at the end of December, and plan to have all accounts migrated to our new model by the end of Q1 2020.
Self-Administration
A common customer request is to bypass our Customer Success team and allow users to self-manage things like master data and user access. We rolled out the first of the screens to manage this — our new Counterparties screen — this year. We plan to add much more in terms of self-administration capability in 2020.
Consumable & Inventory Trades, Logistics Preview
Early in 2019, we began sharing our physical logistics preview. We've been taking on board lots of great feedback—to iterate on it so that we get it right. New enhancements now include "consumable" trades, for things like transportation, RECs, RINs, and "inventory" assets, which allow for multiple buckets of inventory valued in a custom way.
Wrap Up
We made a whole lot more — over 550 improvements, big and small, to Molecule this year. All while improving reliability to 99.98% (less than 1 hour of unscheduled downtime), and improving general performance as well.
We're equally excited about the things we have planned for next year: from single sign-on, to user-feedback-driven upgrades for many of our screens, and even more features related to self-administration and quality assurance.
Thank you for using Molecule (or just following our progress). We hope we'll blow your socks off next year.
Love,
The Molecule Team
Related Posts
Top Questions Our Sales Team is Asked