Transform Your Energy Trading Analytics with Bigbang
Learn how Bigbang, Molecule's data lake platform, pairs with our ETRM to stream data from key sources for advanced energy trading analytics.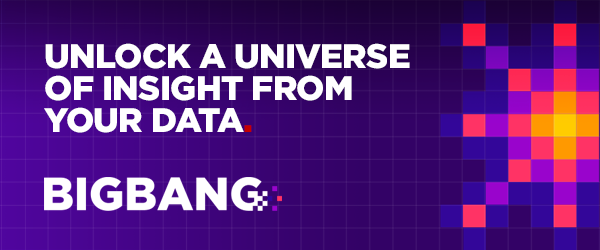 With today's market volatility, effective data-driven trade decisions call for more sophisticated energy trading analytics and data management strategies. Your trade data from different systems should work together, not against each other, to produce deeper and more actionable insights.  
"The increased integration of data into decision making will require both solid data governance and a best-in-class tech stack" – McKinsey and Company, "The Future of Commodity Trading"
So what does this "best-in-class tech stack" consist of?
Well, a multi-tenant energy trading risk management (ETRM) infrastructure brings lots of advantages – except the ability to query data directly using SQL. If you need that direct access to your data to perform complex, time-series queries, multi-tenant ETRMs won't provide that – not even through APIs.
That's where a scalable data lake comes in. At Molecule, we recognized the importance of streaming your ETRM data into a data lake for further analysis. With our Bigbang data-lake-as-a-service add-on, your Molecule data will stream to a single-tenant SQL database in near real-time. Then, we'll hand you the keys!
Read on to learn how Molecule's Bigbang optimizes both your data and risk management by making it easier to merge data from different sources and extract more meaningful insights for better decision-making. We'll answer all your burning questions about data lakes and how they enable better data management, analytics, and insights by pairing them with an ETRM.
Why are data lakes important to energy trading analytics?
With a data lake, you can manipulate raw data from various sources to unlock valuable insights from your trade portfolio. You can then use SQL, Python, or a BI tool for your own analytics and reporting.
While ETRM platforms like Molecule have robust APIs that are excellent for transactional data and operations, daily reporting, and small-ish batches, access to raw data opens up new opportunities for advanced analytics. For larger batches of data, it can be time-consuming to make multiple API calls to transfer and query your data at once. Moreover, building out custom data lakes for reporting can cost even more time and resources.
With Bigbang, on the other hand, you gain direct access to your ETRM data for complex queries — a game-changer in the energy trading industry! You'll have near real-time trade, market, and valuation data from Molecule at your fingertips, combined with critical data from other relevant sources for deeper analysis.
How does Molecule's data-lake-as-a-service enable advanced energy trading analytics?
By streaming data into a private data lake hosted by Molecule, you have full control of your ETRM data alongside other data from your ERP, GL, and/or SCADA system. With Bigbang, you have your own native data lake, not just a channel provided by one of your software vendors.
Bigbang empowers you to unleash the full potential of your data by unlocking meaningful business insights through more efficient querying – all on a single-tenant, cloud platform. Let's dive into some of the other exciting things you can do with your trade data in Bigbang:
Conduct complex aggregate analysis of all your data in Molecule
Perform time-series analysis with large batches of data
Access the power of a first-class SQL database
Connect directly to the underlying data with any tool or programming language of your choosing
Are you ready to unlock advanced analytics and actionable insights with your own queries, schemas, and tools? You can build more accurate, comprehensive reports and understand how your portfolio has performed over time with 24/7 access to near real-time enterprise data. You'll have everything you need to maintain a scalable data lake for business intelligence and advanced analytics.
The best part? Bigbang enables you to make sense of your data faster and smarter, freeing you up to focus on what you do best – making strategic decisions on your trade portfolio based on meaningful insights.
How does Molecule's data lake software work?
Under the hood, Bigbang runs on Molecule, PostgreSQL, and Kafka – augmented by Confluent. We think open source is some of the best technology out there. That's why PostgreSQL, the leading open-source SQL database, and Kafka, an open-source streaming system for near real-time data feeds, power our Bigbang data lakes technology.
"For Bigbang, we chose to leverage Kafka and Confluent because each fulfills our security and reliability requirements. First and foremost, we ensure that our customers' data will always remain private and secure." - Paul Kaisharis, SVP and Head of Engineering
We provide a reliable, hosted PostgreSQL database that's always up-to-date with your Molecule trade, market, and valuation data. We'll set up the infrastructure and give you the keys to your new data lake. Bigbang also works on top of the Molecule API, so data is shaped the way you expect it to be.
From there, you can merge the data from Molecule with data from other key systems of your choice. Then, you can transform the data in Bigbang by quickly performing your own additional queries and schemas and using tools like materialized views and dbt for easier reporting.
We'll provide automatic backups and all the monitoring you expect from Molecule to ensure your data is secure and protected. Even better, you won't have to settle for occasional batch updates – Molecule will automatically push relevant and accurate data to your data lake.
Discover how Bigbang + Molecule will optimize your trading data and empower you to make more informed risk management decisions - learn more here.
Related Posts
Why We Love Open-Source and How it Optimizes Our E/CTRM
How APIs Make Your E/CTRM More Powerful